Paint & Refinish
When it comes to auto body paint repair, customers rely on Concord Collision Centre for a wide range of services – from touching up small stone chips, to painting unsightly nicks and scratches, to full coverage painting during collision repairs.
Auto body paint repair requires skill and expertise. At Concord Collision Centre, quality is always at the forefront. Our certified paint refinishers meet the most rigorous training parameters, and ensure the highest quality standards on every job.
Concord Collision Centre uses PPG paints and finishing products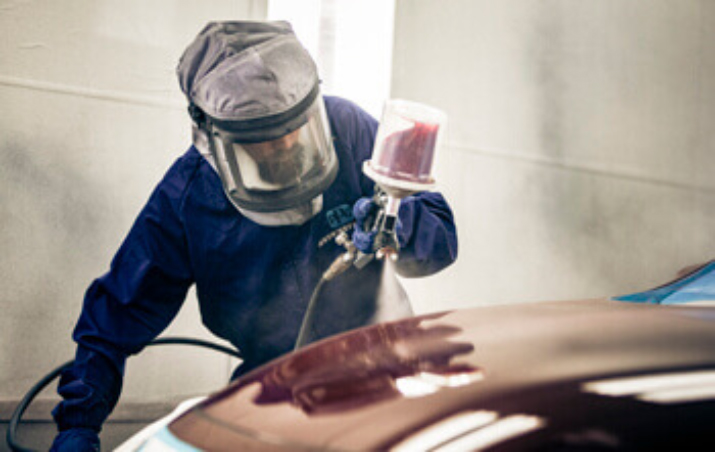 At Concord Collision Centre, we use premium quality PPG paint for most of our auto body paint repair. Today, PPG is considered the largest coating supplier for OEM paints (Original Equipment Manufacturer). Their products are ideal for any type of vehicle, and the closest OEM match.
With quality in mind, our collision repair shop has access to every PPG product available – it means that superior refinishing results are assured every time. PPG paint products also provide specialized colour selections for the discriminating car enthusiast (still at an affordable cost).
How much does it cost to paint scratches, stone chips, or damaged paint?
Paint and refinishing costs vary depending on the scope of vehicle damage. Naturally, a small chip or scratch will be easier to repair and refinish than severe body and paint damage. For the most effective auto body paint repair, it's very important to do the work right the first time.
At the Concord Collision Centre, our certified technicians paint all types of scratches, chips, and surface damage. We are recognized as a Gold Class® Repair Centre, assuring our customers that all body repairs and paint restorations are industry compliant and quality guaranteed.
For a detailed price quote you can visit our website and fill out our online request. Alternatively, you can call one of our staff at 905.669.2657 for more personalized service. We try our best to accommodate you at a time that can be particularly stressful.
We work closely with your insurance company
When you work with Concord Collision Centre, we do our best to provide a straightforward repair process, and a seamless insurance claims process. We work closely will all of the major insurance companies, and our office staff is highly experienced in the collision repair industry.
Why you should choose Concord Collision Centre
Whether it's vehicle collision repairs or auto body paint repair, Concord Collision Centre has one premise in mind – to provide customer service with honesty and integrity. Today, even the most basic auto body repairs require skill and expertise – and our people do it properly from the start.
For collision repairs of all types, we provide a lifetime warranty on all of our work. This simply allows customers to have long-term peace of mind, regardless of the scope of work. In addition to body repairs and paint repairs, we also offer complete towing services and rental car services.
Find out more about our range of services by visiting our website or calling one of our expert staff at 905.669.2657.